A Guide to Visiting Zion National Park: Plan Your Trip Right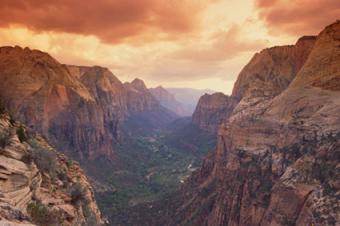 If you're a fan of breathtaking scenery and outdoor adventures, Utah's Zion National Park may be the ideal spot for your next vacation. Both geological history and the breathtaking beauty of nature come to life in this national park. According to Utah.com, Zion is the state's "first federally designated park" and at approximately 150 million years old, "shows the oldest geologic layers this side of the Grand Canyon.".
What to Expect at Zion National Park
Zion is a popular destination, with more than three million visitors entering the park in 2014. Mike Coronella, outdoor adventure expert and author of The Hayduke Trail, paints a vivid picture: "Zion will introduce you to the inside of the earth, sort of. It's a huge canyon, carved by the Virgin River through Navajo sandstone, two thousand feet deep with parts only twenty feet wide." He enthuses, "You should visit Zion if you like to hike, climb, backpack, camp, go canyoneering or photograph gigantic landscapes or unexpected wildlife." He also notes it's the "ideal place to just hang out and watch the sun rise and set while shadows continually change the scene."
Seasons
While some parts of the park close or operate with a reduced schedule during certain seasons, the overall park is open year-round. It's always a good time to visit though the best time for you will depend on your preferences. Frommer's indicates:
Winter: December through February are the quietest months to visit the park. However, it is likely quite cold and the chances of snow and ice impacting your visit are very high. Some areas of the park may be closed.
Spring: The weather is better in March and April than in the winter or summer. The park is also less crowded during these times than in the peak summer months.
Summer: May through September are the peak tourist months, though out of these months, May and September are the least crowded. Expect the largest crowds (and highest temperatures) June through August.
Fall: In October and November, the weather is more pleasant than during the summer or winter, and the crowds are lighter than during the summer months.
Fees
Park visitors must purchase a "recreational use pass" to enter the park. Annual Zion passes can be purchased for $50 and interagency passes, which provide entry to all fee-required federal recreation sites, can be purchased for $80.
Visitors can also purchase weekly passes. Weekly passes can be upgraded to annual passes within seven days of purchase. Options include:
Weekly private vehicle pass ($30): Provides admission for all passengers of a non-commercial vehicle that holds 15 or fewer people
Motorcycle pass ($25): Provides admission for one non-commercial motorcycle and its passengers
Per person pass ($15): Provides admission for one person arriving without a car (such as hikers and bicyclists); no charge for children under 15
Seven Great Park Activities
1. Hiking
With over 70 miles of maintained hiking trails, it's not surprising Zion is a hiker's paradise. National Geographic lists "take a hike in Zion National Park" as one of the best activities in all of Utah's five national parks. Coronella's top three Zion hiking spots are Zion Canyon Narrows, Angel's Landing and Kolob Canyon. These three trails (and a few more) are included in the TripAdvisor's list of the top ten things to do in Zion National Park, and they have also all earned the TripAdvisor Certificate of Excellence.
Angel's Landing: Coronella states, "The infamous Angel's Landing offers fantastic views with gut-wrenching exposure 1,500 feet straight above the canyon bottom." He points out, "There are chains to hang on to on the near-vertical section before the top. Scout's Landing, which is above the incomparable Walter's Wiggles with 21 short and steep switchbacks, is a reasonable stopping point for those not comfortable with the final push to the top."
Zion Canyon Narrows: Coronella describes the Zion Canyon Narrows as "the Virgin River at its tightest." He notes, "You can enjoy either a day hike of up to almost five miles each way or a multi-day adventure." He suggests either walking the narrows or rappelling from one of the challenging variety of slot canyons that feed the river. He exclaims, "Your feet will be wet and your jaw will be dropping!"
Kolob Canyon: "Detached from the main section of the Park, Kolob Canyon is accessed either by backpacking or by driving out on I-15," says Coronella. He continues, "The crowds will be in Zion Canyon while you visit a lesser known, but very dramatic area. Hike seven miles to Kolob Arch, the second longest natural span on the planet, or up Taylor Creek, both with towering walls of red rock and flowing water."
These are just a few of the many hiking trails in Zion. Learn more about additional trails on AllTrails.com.
2. Backpacking
If you're up for a truly rugged outdoor adventure, you can take your hiking experience to the next level by going backpacking in the 124,400 acres of designated wilderness within the park. Both day and overnight backpacking are options here. For those interested in backpacking, Coronella suggests trying, "the Zion Traverse (also known as the Trans-Zion Trail) for an approximately 50-mile route through sublime landscapes."
Permits are required for all overnight stays in the wilderness. Most wilderness areas are open for day hikes without a permit. The exception is the Narrows day hike, which does require a permit. Permits can be reserved up to three months in advance. However, the park reserves approximately one-third of available passes for walk-up backpackers. Permits start at $10 for one to two people and go up to $20 for groups of eight to twelve people. There is an additional $5 fee to reserve online.
3. Zion Canyon Scenic Drive
You don't have to be a serious hiker or backpacker to enjoy the beauty of Zion. According to MyUtahParks.com, the Zion Canyon Scenic Drive, which can be enjoyed by car, is "a must-do on your Zion Park trip." You'll wonder at the incredible beauty of nature as you travel along miles of road that run parallel to the Virgin River. MyUtahParks.com states, "It is a spectacular drive. . .and provides stunning views of Zion Canyon."
To enjoy even more breathtaking beauty, consider driving all 145 miles of the Zion Canyon Loop surrounding the park which MyScenicDrives.com indicates will take just over three hours.
4. Bicycling
While the Pa'rus Trail (a paved, 1.8-mile trail) is the only trail where bicycles are allowed, cycling is permitted on all the roadways within the park. The Zion Canyon Scenic drive offers unobstructed views, and most trailheads and picnic areas have bike racks.
Bicyclists who start their ride at the park's east entrance should be aware they cannot ride through the Zion-Mt. Carmel Tunnel. Cyclists wishing to traverse this route will need to make arrangements for transportation through the tunnel.
Several local companies offer guided bicycling tours in and around Zion.
5. Rock Climbing
CampingRoadTrip.com lists Zion as one of the ten best places to go rock climbing but points out it is not suitable for beginning climbers. The smooth-surface cliffs at Zion are 2,000 feet high, making an expert's touch necessary to climb them. CampingRoadTrip.com asserts the best months for rock climbing are October and May. Permits are required for overnight climbs only.
Guided rock climbing is not permitted in the national park. If you'd like to participate in a guided adventure, you'll need to climb outside the park's boundaries. Red Desert Adventures offers half-day, full day and longer options in the surrounding areas.
6. Canyoneeering
Canyoneering is an extreme sport that requires significant skill. It involves climbing rocks and mountains, scaling boulders, swimming in freezing water and more.
However, if you're a canyoneering enthusiast, Zion is an ideal destination. According to ZionNational-Park.com, permits are required for both "technical and semi-technical slot canyons located in Zion." Permits aren't required for canyons that begin on the park's edge and have exits outside the boundary of the park.
Zion Rock Guides is a local tour company offering guided canyoneering adventures in Zion. There are options appropriate for beginners and families as well as more advanced options.
7. River Trips
If you want to set out on a river trip within the park's boundaries, you'll need a wilderness permit and "watercraft specifically designed for whitewater use." Taking a kayak through the Narrows is an ultimate adventure, but is only for those with class V whitewater experience and the skills to survive in the wilderness for several days. This is not something for casual vacationers to attempt.
For more tourist-friendly river outings, the nearby Sevier River is the closest option. If offers guided class II and III whitewater outings.
Weather Cautions
Coronella warns visitors to be mindful of the weather. He points out, "Exposure on the trails is extreme." Summer temperatures can be over 110?F while winter conditions can be particularly hazardous. In addition, flash flooding poses a significant risk. Coronella cautions, "Many of Zion's canyons can be lethal in wet weather." He stresses, "Never enter a flood prone area in stormy weather or even if storms are likely. Heed all warnings about potential flash flood dangers."
Insider Tips
Coronella shares a few of his favorite insider tips for Zion:
"Zion can be busy, so shuttle buses are mandatory." The park offers free shuttles during the peak tourist season.
"I've been to some of the Park's popular scenic points, including Observation Point and Angel's Landing, at or near sunrise--and have had the place to myself."
"Hiking poles with rubber tips are a great help on long descents!"
Zion Accommodations
Inside the Park
Camping
There are three campgrounds in Zion, two of which (Watchman and South) are located within Zion Canyon and one of which (Lava Point) is located about an hour's drive away on Kolob Terrace Road. According to the park's website, the campgrounds typically stay full from the middle of March through the month of November. A 14-night limit is in effect during peak season. Leashed pets are allowed.
Zion Canyon Campgrounds (Watchman and South): These campgrounds are open year round. They are near the south entrance in desert terrain with little shade, so temperatures can be brutal. Campsites are limited to no more than two vehicles (only one of which can be an RV) with a maximum of six people. There are no showers, but flush toilets and potable water are available. Fire pits with grill surfaces and picnic tables are provided at each spot.

Watchman Campground: Sites with and without power are available in this campground. There are 178 individual sites, two of which are wheelchair accessible, and six group campsites. Sites with electricity are $30 per night and tent-only sites (which do not have electricity) are $20 per night. Some sites here are reservable.
South Campgrounds: There are no power outlets in this campground. There are 127 campsites, three of which are wheelchair accessible. Campsites cost $16 per night. Reservations are not accepted for this campground.

Lava Point Campground: This campground has only six campsites, all of which are primitive and cannot be reserved in advance. Pit toilets are available, but there is no water. Vehicles longer than 19 feet are not allowed. There is no charge for camping here. It is usually open from June through October, depending on the weather. It is situated at an elevation of 7,980 feet.
Lodge
For those who want to stay in the park but prefer not to camp, Zion Lodge is a great option to consider. Located inside the park, the lodge is open year round. It provides a combination of modern amenities (including in-room Wi-Fi and TV sets) with a rustic feel. It has 75 rooms, six of which are suites, and 40 cabins. The lodge has a restaurant and a gift shop.
Rooms and suites at the lodge range from about $210 - $280 per night. Each room has either a porch or balcony.
Cabin rentals range from $205 to $215. Each cabin has a gas log fireplace, a private bathroom and a porch. Daily maid service is included.
Fodor's mentions reservations are hard to get here and recommends booking six months (or more) in advance.
Surrounding Area
With limited accommodation options within the park, you may want to consider staying outside the park. Select your location based on the park entrance you plan to use most.
Privately owned vacation rentals are another option to consider. Numerous selections in the areas surrounding the park can be viewed on VRBO.com.
Amazing Outdoor Experience
Corenella raves, "Zion is a place to hear twenty languages in an hour or to find solitude in the massive backcountry wilderness." Whether you are standing at the top of Observation Point or admiring the beauty of sights like the Weeping Wall, an enormous rock face oozing water from seemingly nowhere, be sure to take plenty of pictures, so you can revisit your adventure. A trip to Zion National Park is a trip of a lifetime.