Lassen Volcanic National Park: What You Need to Know Before Your Visit
If you're looking for a perfect destination to marvel in the unique beauty of northern California, Lassen Volcanic National Park should be near the top of your list. This is especially true if you're interested in volcanoes and geothermal activity, or if you prefer to travel off the beaten path.
What to Expect at Lassen Volcanic National Park
At just 166 square miles, Lassen Volcanic National Park isn't one of the largest National Parks, but it is breathtakingly beautiful and unique. It also isn't one of the most heavily visited. According to at 2014 L.A. Times article, about 400,000 people visit the park annually, as compared to the more than four million tourists that flock to Yellowstone each year. Sunset magazine once described Lassen as "the West's most beautiful, least visited wonderland."
Rave Reviews
Long-time hospitality professional Gail Bower, president of Bower & Co. Consulting LLC, describes Lassen Volcanic National Park as "a beautiful place, rich with geological and scientific phenomenon that you don't see everywhere."
Bower visited the park during the summer of 2015 and highly recommends it. She is not the only one who feels that way:
The SkyWest Airlines recommends the park as one of eight terrific national parks for a weekend visit. The blog post states, "Lassen is not only beautiful but also has the largest plug dome volcano in the world and is home to almost every kind of volcanic formation."
SFGate describes the park as a great place to visit that "offers beauty without the crowds."
Lassen Volcanic National Park has a near-perfect rating on TripAdvisor and has also earned the TripAdvisor Certificate of Excellence.
Great Reasons to Visit
Bower describes three important reasons to visit the park:
"First, it's a hidden gem. A little off the beaten track, it's not crowded, which allows you to have wonderful solitary experiences with nature."
"Second, it's beautiful and fascinating to see the power of nature and its ability to cause so much change unpredictably to our planet. Always a great reminder!"
"Third, and most importantly, is that Lassen has all four types of volcanoes found in nature: cinder cone, composite, shield, and plug dome. You can hike and explore these dormant volcanoes, plus the exotic landscapes formed as a result of the molten earth below."
Fees
Visitors must pay an individual entry fee of $15 per person. All vehicles must have a vehicle pass, which costs $30 and covers up to seven days. Motorcycle passes are $25, regardless of the number of people on the bike. You can purchase an annual pass for $55. Special rates apply for school groups and organized tours.
There are a few free admission days each year, including National Park Week, National Public Lands Day, Veteran's Day, Martin Luther King, Jr. Day and the birthday weekend of the National Park Service.
Seven Top Park Activities
There are numerous features and activities to enjoy within the park.
1. Hike the Trails
There are more than 150 miles of trails in Lassen Volcanic National Park, which is a main reason The Trail Master describes it as "very much a hiker's park." The park is home to numerous trails, including both moderate and difficult options. The shortest trail (Manzanita Lake) is 2 miles, and the longest (Cluster Lakes) is 11 miles. The steep, 6.7 mile, full-day Lassen Peak Standard Summit trail is the most challenging.
Bower indicates that hiking Cinder Cone is one of her favorite activities within the park. She elaborates, "You pass the Fantastic Lava Beds, then reach the 30-minute steep hike up the side of the cone. When you reach then top, you have a 360-degree view of the region, and you can hike into the volcano which is a very cool experience." This is a 5.5-mile, moderate trail.
2. Learn About Past Eruptions
Lassen Peak, which last erupted in 1915, is believed to be the biggest plug dome volcano on the planet. Bower recommends that you make a point to learn about the most recent eruption on along the historic trail. She points out, "It's well-detailed and illustrated and includes an audio tour, so you can experience the destruction and the effect on the people who were there."
3. Visit Geothermal Activity Spots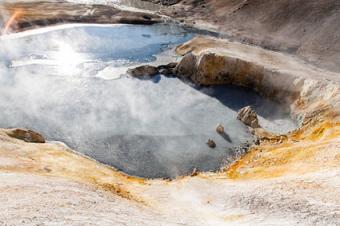 The park's volcanic activity provides a uniquely beautiful viewing experience best enjoyed by hiking. Bower encourages visitors to "visit the areas of the park where the earth is boiling, but don't stray off the trails." Visitors have been known to suffer severe burns when venturing off designated trails.
Bower recommends, "Don't miss Devil's Kitchen, which features a boardwalk trail through a steamy, sulphuric caldron of boiling mud." She also suggests visiting "places like Chaos Jumble and Chaos Crags, the Devastated Area, Sulphur Works and Bumpass Hell," which is "named after an early settler who severely burned his leg after falling into a boiling pool."
4. Take a Driving Tour
Hiking isn't the only option because you can also drive through the park too. The length of the park's main road is 29 miles, and you'll encounter wildlife, amazing views, and parking areas where you can take a few photos.
5. Do Some Birdwatching
According to TheBirdersReport.com, the park is home to more than 200 species of birds, making it a paradise for those who enjoy birdwatching. Birds can be seen in all areas of the park, but you'll likely see the greatest variety near the lakes in the lowest elevation areas.
6. Enjoy the Lakes
There are several lakes within the park for visitors to enjoy, some of which are open to boaters with non-motorized vessels only. According to the park's website, lakes where boating is permitted include Manzanita, Butte, Juniper and Summit. You can rent canoes, kayaks, stand-up paddle boards, and catarafts in the park. Lakes where boating is not permitted include Reflection, Emerald, Helen, and Boiling Springs. Fishing is allowed (license required).
7. Play in the Snow
If you go during the winter, expect a lot of snow. While many of the park's facilities and roads aren't accessible during the winter, park visitors often enjoy snowshoeing and cross-country skiing (on the main road itself) when there is powder on the ground. Park rangers lead guided snowshoe walks on some weekends.
When to Visit
According to National Geographic, "the volcanic areas are best visited in summer and fall." During the winter months, parts of the park are closed due to heavy snow. However, National Geographic indicates that guests can "enjoy snowshoe hikes and cross-country skiing at the southern and northern entrances" even when heavy snow makes the main road impassable.
Where to Stay
Park Accommodations
Within the park, there are eight campgrounds, a few rental cabins and one guest ranch (Drakesbad Guest Ranch). Dogs are allowed in the campgrounds (on leashes), but not in the other lodging facilities.
Campgrounds: There are primitive and developed campsites, most of which are open early June through mid-October. One walk-in site is open all year though the restrooms are closed after October. Some sites will accommodate RVs, however no hook-ups are available anywhere in the park.

About half of the sites can be reserved, while the others are first come, first served.
Prices for individual campsites range from $12 to $24 per night. Group campsites range from $28 to $70 per night. Stock corrals are available for $28 to $35 per night.
A TripAdvisor user indicates that Manzanita Lake is the most popular campground for RVs while Butte Lake and Juniper Lake are ideal for those who want secluded spots.

Cabins: There are 20 rental cabins within the park, all of which can be reserved. Sizes include one-room cabins that accommodate two or three people (if one sleeps on the floor in a sleeping bag), two-room cabins that accommodate up to six people and bunkhouse cabins that will house up to eight individuals.

Cabin prices range from $69 to $95 per night.
Cabins are available from May through October.
According to Recreation.gov, the cabins are about one mile from the park entrance and are within walking distance of Manzanita Lake and several trails.

Drakesbad Guest Ranch: Also open May through October, the Drakesbad Guest House offers several accommodation options, including one and two bedroom units, lodge-style rooms and more.

Three daily meals are included for guests.
Prices start around $300 per night per person, with reduced rates for kids staying with their parents.
Fodor's points out that reservations are hard to get although you can book accommodations up to two years in advance.
Surrounding Area
Accommodations are sparse outside of the park as well. Bower advises, "Book your lodging early because there aren't a lot of hotels in the area, which is what makes it special." A few nearby options include:
Cedar Lodge and RV Park: Located about a half an hour's drive away from the park in the town of Chester, this place offers full hook-up RV sites and motel rooms. Kitchenettes are available. One Yelp reviewer describes it as "excellent" and other says it's a "clean, comfortable, friendly place to stay near Lassen."
Best Western Rose Quartz Inn: Also in Chester, this motel is convenient to the park and offers comfortable rooms, free breakfast, an on-site fitness center and free Wi-Fi. Yelp reviewers describe it as a good home base for a trip to Lassen.
Mount Lassen/Shingletown KOA: Located an easy drive from the park in the town of Shingletown, this campground can accommodate tent and RV campers, as well as those who'd like to rent a cabin. Campground Reviews gives the park a 9.2 Excellent rating.
You can see a complete list of hotels in the surrounding area on the Lodging page of the park's website. You can also find privately owned vacation rentals near the park on VRBO.com.
A Unique Outdoor Experience
Visiting Lassen Volcanic National Park is sure to be a unique vacation experience. Take in all the amazing natural beauty the park has to offer during the time you're lucky enough to spend in the park!