Whether you're a golf enthusiast, a nature lover, or someone who appreciates towns with plenty of character, Abersoch, a village in Gwynedd, Wales, is a must-see. This area is renowned for its gorgeous views and abundance of wildlife, and there are plenty of campsite options perfect for your particular travel goals and preferences.
Abersoch Campsites and Campgrounds
The following Abersoch campsites are popular destinations for both the novice and the experienced camper. Whether you come for the annual Abersoch Jazz Festival in June or your love of water sports brings you to the yearly Wakestock wakeboarding and music festival in July, Abersoch offers something for everyone to enjoy throughout the year. Renowned for its West Coast Open Surfing Contest as well as its many Abersoch Regatta events, Abersoch is a popular destination for camping enthusiasts. If this describes you, what Abersoch campsites are available?
Hen Siop y Mynydd Campsite
Well-known for its breathtaking views and prime fishing, Hen Siop y Mynydd is situated near the Cambrian Mountains and Snowdonia National Park. Campers have the option of spending the day fishing, surfing, hiking, bird watching, or simply taking in the gorgeous scenery this campground has to offer. It's a haven for birdwatchers, since the headland is a breeding ground for many species of birds, particularly cormorants.
The famous Hell's Mouth Beach is less than 2 miles away and is accessible by a footpath. In addition to the campsites, a six-berth caravan is available to rent. For more information, visit the website.
Bryn Bach
Another popular Abersoch campsite, Bryn Bach offers outdoors lovers a variety of activities to choose from. Nestled in the heart of the Llyn Peninsula, those who choose to stay in this lovely campground will revel in the lush surroundings of the Snowdonia mountain range. With beautiful beaches only a 10- to 15-minute walk from the campsites, Bryn Bach offers a variety of recreational activities for everyone. From fishing to surfing, hiking and more, tent campers, recreational vehicle (RV) enthusiasts, and caravanners flock to this site during peak months, so early booking may be necessary depending upon the time of year you choose to visit. For more information, visit the Bryn Bach website.
Tanrallt Farm
Located in the village of Llangian only one-and-a-half miles from Abersoch, Tanrallt Farm offers tourists a variety of accommodations. Choose from a luxury bunkhouse, charming cottage, or one of several caravan and camping sites.
With electric hookups, BBQ areas, toilets, showers, laundry facilities, and more available, Tanrallt makes an excellent camping choice. Keep in mind, however, that this farm is only available for couples and families. For more information, visit the Tanrallt Farm website.
Cilan Fawr
Located on the Cilan Headland, which overlooks Hell's Mouth and Abersoch and offers views of the beautiful Snowdonia mountain range, Cilan Fawr is the perfect destination for camping enthusiasts who want to experience a multitude of outdoor activities. From surfing, sailing, fishing, and swimming to golfing, cycling, horseback riding, hiking, and more, Cilan Fawr is the perfect destination for your family. If camping is a bit too primitive for your tastes, choose from one of the self-accommodating bungalows available for rent. For more information, visit the Cilan Fawr Holidays website.
Penrhyn Camping Site
If surfing is part of your agenda, you'll love Penrhyn's camping facilities. Located a mere 5-minute walk from Porth Ceiriad, a surfer's paradise, Penrhyn caters to singles and couples. Facilities include flush toilets, showers, laundry, and electric hookups.
Perhyn is located in a picturesque setting, where campers can enjoy rolling countryside, sea views, wide open green spaces, and stunning beaches.
In addition to all of that natural beauty, the village of Abersoch is only one-and-a-half miles away. For more information, visit the Penrhyn's website.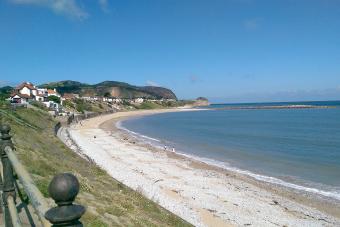 Bodwrog Caravan and Camping Park
Bodwrog is located on the Llyn Peninsula, in a tranquil setting about one-and-a-half miles from the beach at Llanebedrog and a couple miles from Abersoch and all the activities that can be found there. The area offers so many activities, including surfing, sailing, fishing, bird watching, and golf.
The park offers several amenities, including campsites and a camping pod, which is perfect for small families.
Rhydolion
Rhydolion is located about half a mile from Hell's Mouth and two-and-a-half miles from Absersoch, in an area chock-full of beaches and areas to enjoy views of nature and wildlife.
This unique vacation option is actually a working, family-run sheep and beef farm. It offers both cottages and camping pitches. The cottages are all self-serve, and have three-bedrooms, spas, kitchens, televisions, and Wi-Fi. Clean linens are delivered, making the cabins like carefree homes away from home.
The Willows
The Willows are a very peaceful, adults-only campsite. Only those 18 and older (as well as their pets) are allowed to camp at this location. The management prides itself on offering the guests at the Willows plenty of quiet, peace, and space; they specifically limit how many reservations they take at one time to allow campers to spread out and have more privacy.
While offering plenty of nature, there are modern amenities as well, including Wi-Fi, boat launches, fully stocked washrooms including hair dryers and straighteners, and a fully equipped laundry room.
In addition to the tent sites, the Willows also offers four "glamping" pods for those who want a little more luxury.
Rhosfawr Caravan and Camping Park
Rhosfawr is a wonderful option for family and couples camping or RVing. The park covers 9 acres and is surrounded by woods and countryside with gorgeous mountain views. It's 5 miles from the seaside market town of Pwllheli, and close to several other attractions, as well.
There are plenty of options here, from tent pitches and electric hookups for RVs, as well as cottages that can sleep up to eight people.
Bolmynydd Camping Park
Bolmynydd is a small, family-run camping park on the Llanbedrog headland, in an area surrounded by natural beauty. Campers can enjoy views of the coasts, as well as of the mountains of Snowdonia.
Bolmynydd is within walking distance of beaches, shops, bistros, and pubs. Each pitch is separated by hedges, allowing the campers to have a bit of privacy, and they provide amenities for tent camping, campervans, and motor homes.
Camping Near Abersoch: Natural Beauty and Luxury
Abersoch campsites are the perfect choice for those longing to experience all that North Wales has to offer. Whether you're a fan of shopping, dining, and golf, or outdoor activities and wildlife, you're sure to find the perfect place to stay.