12 Winter Camping Tips That'll Keep You Safe and Warm
Fun in Any Temperature
If you'll be taking a camping trip after the temperatures turn frigid you'll certainly want to pick up some winter camping tips before you go. Spending time in the great outdoors can be fun any time of year if you prepare properly for the conditions you are likely to face.
Verify Seasonal Availability
Many campgrounds close during the winter months. Before setting off on a camping trip, contact the campground where you want to stay to ensure the facility will not be closed for the winter season when you arrive.
Prepare for Winter Weather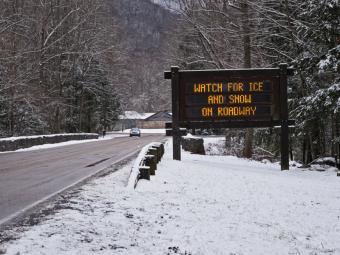 Watch the weather forecast before heading out and prepare yourself for the worst case scenario. It's always best to plan for the coldest possible conditions when going camping in the winter, as being over-prepared is better than getting to your campsite and finding out that your clothes aren't warm enough or that your sleeping bag and gear are rated for milder conditions.
Take a Compass and Map
Every winter camper or hiker should have a compass and a map. While a GPS can be helpful, the batteries may not last as long as you need. Even if you aren't planning to stay out longer than the batteries are expected to last, there is always a chance that you could get delayed, or that the equipment could malfunction.
Take a compass and map with you no matter what, and be prepared to use them.
Choose an Appropriate Sleeping Bag
Buy Now"
Quality sleeping bags designed for serious campers include temperature ratings. Be sure to take a sleeping bag that is appropriate for the climate you'll experience during your outdoor adventure.
The Coleman Big Basin Extreme Weather sleeping bag pictured here is a good cold weather choice. It's a well-made mummy-style bag rated for zero to 20 degree weather and costs about $50.
Eat Plenty of Food
When you're spending time outdoors in cold weather, you'll likely need more calories than usual. Increase your chances of staying warm by consuming plenty of calories.
Eat plenty of high-protein foods, like beef jerky and nuts, though you can also enjoy toasted marshmallows an other traditional camping treats. A bedtime snack can help keep you warm throughout the night.
Dress in Layers
Since your activity level is likely to vary greatly while you are camping, you should dress in layers. Bundle up early in the day to get and stay warm. Remove layers as your body starts to generate heat based on your activity level.
Try to avoid perspiration as you don't want to end up wearing clothing that is damp from sweat when the temperatures start to dip during the evening hours.
Keep Snow Out of Tent
Take care to keep snow out of your tent so you don't experience problems with water and condensation inside your structure.
Be sure to put a tarp under your tent and stake it securely. Keep it securely zipped at all times, opening it as briefly as possible to enter and exit. Additionally, brush the snow away from your clothes and shoes before entering the tent.
Choose a Four-Season Tent
Buy Now"
It's important to use a tent designed to hold up to winter conditions if you'll be camping during the coldest months of the year. Choose a four-season tent so you can be sure that your shelter is appropriate for cold-weather camping.
The HIGH PEAK tent pictured here is a good three-person tent designed for extreme temperatures and harsh conditions. It has a particularly sturdy design, waterproof seams, and zippers that seal completely.
Warm Up Before Bed
Before you crawl into the sleeping bag, take a little time to warm yourself. Do a few jumping jacks or jog around your campsite. This will help you make the transition from moving around fully clothed to snuggling up in your sleeping bag comfortably.
Severe Weather Travel Kit
Buy Now"
Pack a severe weather travel kit so that you'll be prepared for any roadside emergencies when you are traveling to and from your camping destination.
The kit pictured here is offered by AAA and has 66 items selected to be of use in various types of winter emergencies. It costs about $45 and can easily be stowed in any type of vehicle.
Conserve Cell Phone Battery
Bring your cell phone, but don't use it unless it's an emergency. You want to try to save the batteries.
Instead of relying on your cell phone to take photographs during your adventure, bring a separate camera so that you don't drain your battery faster than necessary.
Share Your Plans
For safety, make sure someone knows where you are going and what your timeline is. If you are going out for a long time, have periodic check-ins.
If you get lost or in trouble, stay put and try to keep warm. Conserve energy and food. Because you have let someone know where you are going and been having check-ins, people will come looking. Make it easy for them to find you.
Enjoy a Cold Weather Adventure
Winter camping can provide you with a way to enjoy nature that's very different from a warm-weather camping experience. Before you set out for a cold-weather outdoor adventure, make sure that you are fully prepared for any situations you might face. Take the time to develop a clear understanding of winter camping safety and use a season-specific checklist to gather and pack your gear.
Getting prepared ahead of time can ensure that you have a wonderful experience in the great outdoors.