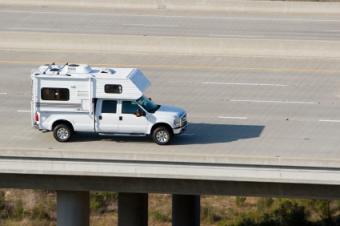 While RVs and motor homes are extremely popular at most campsites around the country, there's a very unique community of campers who enjoy a very different form of camping called "truck camping," and many of those folks often find themselves searching in vain for truck camper plans.
What Are Truck Campers?
With a typical pickup truck bed averaging about eight to nine feet long and four feet wide, most people would never think of transforming the bed of a pickup into a recreational vehicle for camping. However, if you look at many smaller RVs, you'll find that they are essentially a large pickup with the body extended up and back to take advantage of all of the empty air space behind the driver's cab. Transforming the empty bed space of a truck into a livable area is a very rewarding and worthwhile project. The benefits of truck campers are many.
Since you are not towing a vehicle, you don't have to worry about the difficulty of backing up or taking sharp turns.
Truck campers are very convenient and provide the comforts of home anywhere you are. Because of that, they are especially popular among hunters, forest rangers, outdoor enthusiasts and anyone who needs to travel to remote locations that lack hotels.
Some designs incorporate "legs" which, when extended, holds up the entire unit and allows you to drive your truck around as normal.
Enjoy the comfort of a bed and the luxury of cooking and even washing facilities while you are nowhere near civilization.
Using Truck Camper Plans to Build Your Own
There are dozens of designs that you can choose when you're converting your truck into an RV, but like many do-it-yourself projects, information and precise instructions are very difficult to come by on the Internet. You could easily spend an exorbitant amount of money purchasing prefab truck campers from an RV dealer, but the truth is that paying for the cost of materials and doing it yourself will cost only a fraction of what you'd pay for new. The only significant investment you'll need to make if you do it yourself is in time, effort and a little bit of elbow grease.
Free Truck Camper Plans Are Hard to Find
Like most things in life, good plans to build quality truck campers are not free. With that said, thanks to the world of Web 2.0, there are a lot of carpenters who are interested in sharing the success of their handiwork with the rest of the world. Because of this, you can find complete project descriptions including photos and step-by-step instructions at a few excellent blogs and websites across the Internet.
Glen-l is well-known for boat building plans. However, camper enthusiasts around the 'net have only good things to say about the Glen-l campers section. Here, you'll find lots of high quality camper plans for sale. However if you click on the "Construction Photos" link at the top of the page you'll discover an entire section of the site that details the full process of constructing the frame. The "Interiors" link underneath it provides photos of the inside. If you are very skilled at building, you could potentially reverse engineer your own design from the photos and descriptions. Otherwise, you might consider purchasing one of their plans.
HomeBuilt Truck Camper is a detailed blog by Dan Rogers, which details the entire process of building his own camper from one of the Glen-L plans. In this blog he provides a great bundle of photos from his project, detailed descriptions of what he did to complete it, and at the end of the blog series he even included a complete breakdown of his construction costs. If you're planning to build your own camper for your truck, this is a great place to start.
Expedition Portal offers a very unique and fun to build "pop-up" style truck camper that has the look and feel of the vintage truck bed campers from decades past. Pop-up campers are great because they provide much more space beyond the confines of your truck bed floor area.
Websites to Buy Camper Plans for Your Truck
If the information provided at the free sites just isn't enough, you might want to consider buying affordable plans from the many websites that offer them. With paid plans, you receive very detailed instructions, photos of each step, construction materials list and more. If you want to ensure that your project doesn't fail, buying a plan is definitely the way to go. The following websites offer excellent plans for hobbyists, from the amateur carpenters to the most experienced builders.
Butler Projects offers plans for a truck camper that's tailored for first time builders. The design is all-wood, high quality and easy to build, although it is also lacking in many of the amenities that other plans usually provide for.
Robert Q. Riley Enterprises, from Phoenix, Arizona, offers a "budget camper plan" that's a little more advanced than the Butler plan, but it's also larger and features a removable kitchen with a stove and a sink.
The Joy of Building Your Own Camper
The attraction of the truck camper is the romantic idea that whether you're traveling in the middle of the desert or you're driving through an isolated mountain range, all of the comforts of home are already with you. Just pull out some food from your custom cabinets, cook up a warm meal on your built-in camp stove and after your meal, you can sleep warm and dry on your comfortable camper bed. No matter where you find yourself during your travels, that's where your home is..