About Screen Tents
If you're looking for a way to enjoy meals and relaxation time in the great outdoors without having to worry about being bothered by bugs, you just might find that setting up a screen tent at your campsite, beach spot or picnic area is an ideal solution. Screen tents are easy to set up and provide a way for you to enjoy the outdoor scenery and fresh air while keeping bugs at bay. What could be a better addition to your collection of outdoor gear?
Eureka Hex Screen House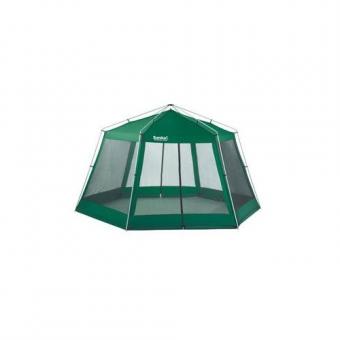 Buy Now"
This large hexagonal shaped screen house from Eureka is also quick and easy to set up with six poles and external clips. It has two doors, which makes it possible to move a picnic table in and out of the assembled unit. It is made with the same high quality materials and craftsmanship as the entire line of Eureka Tents.
Wenzel Biscayne Screen Tent
Buy Now"
The Wenzel Biscayne screen tent has the same hexagonal shape as the Eureka model. The unit's frame is based on a center hub that has multiple spokes. This model's large doors follow an inverted "T" design.
Coleman Screen House
Buy Now"
The Insta Screen Shelter from Coleman is quick and easy to set up. It features an ultraviolet protection factor (UPF) or greater than 50 and comes with a wheeled storage bag.
Texsport Screen Arbor
Buy Now"
At less that $80, the Texsport Screen Arbor is one of the lowest cost screen tents that you can find. It's made with water repellent materials and is designed to be low maintenance. The mesh walls are zippered, making it possible to pull them back to form a standard arbor if the occasion calls for an open air experience.
More Camping Gear Information
Screen tents are a great item for campers and outdoor enthusiasts. Find out about other types of camping gear and equipment that can make it possible for you to enjoy a great time in the great outdoors. Learn more in: