How to Pick the Right Overnight Backpacking Trip to Take
In today's increasingly wired world, overnight backpacking trips are a golden chance to unplug and experience a simpler type of life. But that doesn't mean you have to go it alone. Expert guides provide gear and guidance on the trail, simplifying your preparation and easing any concerns.
Six Overnight Backpacking Trip Examples
There are many opportunities to take guided overnight trips in the United States. Six great options to consider include: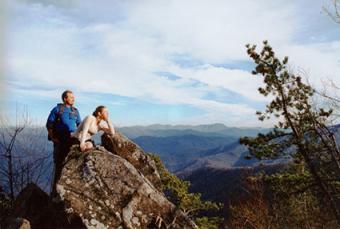 For more guided backpacking trip ideas, see EveryTrail.com. You can filter your search by location, activity and popular itineraries.
Picking the Right Trip
Some people thrive on negotiating harsh terrain in remote locations; others prefer long, easy rambles. Before you select a trip, take overall trip length and terrain difficulty into account. Gauging trip length isn't always about how many miles you walk; it's also about how long you'll be out on the trail.
Each guide company will be able to tell you:
Approximately how many miles you should expect to walk per day
Any major terrain challenges you might encounter
What sort of physical condition you should be in to tackle the trip
Also consider what you'll need to carry on any trip you are considering. Unless you have the privilege of pre-planned supply stops, you can expect to carry at least two pounds of food per person per day. That can really add up on long trips. So can the weight of water (which weighs about 8 pounds per gallon, or 2 pounds per liter) if you have to walk a long way between water supplies.
If you want to do a backpacking trip that's beyond your capability right now, work up to it by taking a beginner backpacking course and doing lots of day hiking with a heavy pack to build up your stamina.
Making Sure You're Ready for an Overnight Trip
There are several things you can (and should!) do before you leave on your backpacking trip to ensure that you're properly prepared:
Do a series of day hikes to break your boots in and make sure they fit properly, even on downhill slopes. Keep in mind that on a strenuous multi-day trip, your feet may swell a full size.
Make sure all your clothing layers fit properly.
Verify that any gear you're taking works. For example, if you're carrying your own water filter, camp stove or fire-starter, test it out before you go on your trip.
Practice hiking with a pack of similar size and weight to what you'll carry on the trip. This is the best way to make sure you're fit enough for the entire adventure!
Let someone you trust know where you're going, with which service, and when you'll be back.
Packing for Your Backpacking Trip
It's important to pack everything you need, but to avoid over-packing, as you'll have to carry everything that you take. Your guide service will provide a packing list of items you should bring on your trip. The guide service will often provide group camping supplies, such as water filters, camp stoves and cooking pots. Bigger-ticket items, like tents and sleeping bags, are often available to rent.
Get Ready to Hit the Trail
Sleeping on the ground, in the middle of the wilderness, might seem intimidating at first. But having a guide along makes the transition easy and, once you've tried it a time or two, you might just find yourself falling in love with the experience and ready to start backpacking on your own. Next time you're in a bookstore, grab a local guidebook and check out the wealth of backpacking trips in your area.