There are numerous options for heating water on a camping trip, and many more choices for kettles that can get the job done. Choosing the ideal kettle for your particular camping needs is partially personal preference and partly application driven. Consider how and where you'll be camping - and how large your group will be - when making your decision. Match your needs to the kettle's capacity, construction and your design preference and you'll have many happy days of enjoyment in the great outdoors ahead of you.
Four Family Sized Kettles
1. Classic Sierra Enamelware Kettle
If you appreciate the look and feel of vintage cookware, this Sierra enamelware 10-cup kettle just might trip your trigger. Priced just under $30, its a real deal worth checking out.
The construction is heavy-gauge steel topped with a classic speckled enamel finish that has been kiln-hardened twice at 1,400° F. This twice-fired technique stands up to scratches and chipping.
Three-ply construction maximizes efficiency and heat distribution for even heating and cooking.
The twisted wire handle dissipates heat and it will look great in your kitchen when not at a campsite.
Review information: While reviews are not available specific to Sierra's kettle, there are positive comments overall about the company's enamelware products. Reviews on Cabela's website indicate that customers find the finish to be attractive, the pieces to be lightweight and the material to hold in heat.
2. Cabela's Campfire Coffee Pot
Coffee loving campers with a demanding passion for this brew will appreciate the advantage of a large hot water producer with stylish looks and a percolator to boot! That's exactly what the Cabela's Campfire Coffee Pot offers.
These seamless kettles are constructed of rugged 18/8 stainless steel.
They come in three sizes: 14, 28 and 36 cups.
Pricing: Prices vary from around $60.00 to just over $100.00 depending on size.
Review information: When scanning some of the several hundred reviews on the Cabela's website (click the Customer Reviews tab by the product description) you'll note that the majority recommend this product to a friend.
Tip: Just remember that the term "stainless" doesn't mean stain proof. Stain"less" steel can be discolored with excessive heat, just less so than other metals.
3. Kelly Kettle
The Kelly Kettle, which originated in Ireland, is one of the most intriguing concepts in camping kettles. The unique design utilizes a fire base which can be filled with a handful of tinder and kindling gathered wherever you happen to be. No need to haul bulky fuel with disposable cans, so you're having a reduced impact as well. If you prefer, it can be used with an alcohol burner, which is not included.
Choose from six sizes, ranging from a small 17-ounce unit designed for one to two people, up to a large 50.7-ounce tanker that would serve well for family trips or base camps in the mountains. Prices vary with capacity and metal range from just over $60.00 to a little less than $90.00. You can also purchase a kit for around $130, but the items in the kit are not very substantial.
Double-walled construction produces boiling water very quickly because the center of the kettle is actually a chimney. The larger size boils 54 oz. (1.5 liters) of water in 3-5 minutes.
The construction is either stainless steel or aluminum depending on which of the six models you choose.
Review information: The kettle itself is highly praised and its devotees are many. Some reviewers even said they had their purchases shipped from England before these kettles became available in the U.S.
4. Granite Ware Coffee Boiler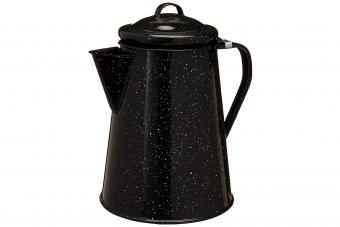 Walmart offers a Granite Ware Coffee Boiler. This classic porcelain camping kettle is very reasonably priced around $29. For those wishing to buy American-made products, this kettle won't be your cup of tea.
If you're looking for an inexpensive kettle there are these positive aspects.
The lid is hinged so it won't fall off and the handle is very large which reduces the heat.
Keep in mind this is not a percolator type coffee pot. With this type of kettle, coffee is made by boiling it, which takes a little practice to get right.
Tip: One trick to making cleanup of a porcelain or enameled kettle easier is to coat the kettle with soap before putting it on a fire. Kettles used on open campfires become covered with soot pretty badly and the soap lets you wash it off easily. This kettle's 3-quart capacity is adequate for most camping families.
Three Options for Backpackers/Small Camps
Toaks Titanium 750ml pot
For the hardcore backpacker, the Toaks Titanium 750ml pot might be a good choice. Price around $35.00 it's in the reasonable range for a high-tech type of cooking pot, but may be more than the average two trips a year family would care to spend.
It works best with a propane or alcohol burner but could be used over a fire as well.
This is a very lightweight pot that would work well as a kettle substitute for hikers heading deep into the high timber.
Its 28.7 ounce capacity is adequate for one or two campers.
At 4 ¾" in height it won't take up much space.
Review information: Reviewers on Walmart (see product page) seem to appreciate this pot's lightweight yet sturdy construction.
GSI Halulite? Tea Kettle
Dedicated backpackers will appreciate the weight and construction of the GSI Halulite? Tea Kettle, manufactured of scratch-proof and burn-proof Halulite?. This kettle is priced less than $25.
It weighs in at a scant 5.8 ounces and the extra wide lid makes it possible to store other items such as an ultralight stove or alcohol cooker to maximize space utilization.
It measures 6.3" x 6.0" x 3.2", so the amount of storage space required is minimal.
The spout is a bit shorter than some campers may prefer, although the compact size and the fact that it's light may offset this factor.
Review information: Overall, customer reviews are quite positive. However, one reviewer at Back Country.com commented that the plastic coating on the handle and lid melted when she left it on a campfire, and that it would be best used on a camp stove. Otherwise, most customer seem very happy with the kettle.
Optimus Terra Kettle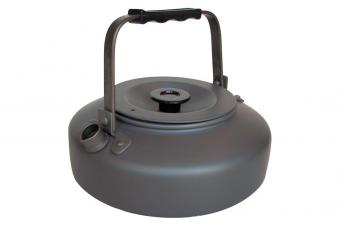 Another lightweight option for backpackers and solo campers would be the Optimus Terra Kettle, available at Walmart for just under $40 it won't bite into your camping budget badly. This kettle is made by a Swedish company that has been manufacturing camping stoves for over 100 years so they know more than a bit about heating water on a camping trip
The material is hard-anodized aluminum.
This kettle weighs 5.4 ounces.
The capacity is 23.6 ounces.
It comes with a mesh storage bag.
Five Kettle Selection Factors to Consider
There are a number of important factors to consider when deciding what type of kettle will best meet your needs.
1. Capacity
The first factor to consider would be capacity. Once you've determined the size required for your camping inclinations, you'll save time by not looking at those options outside the realm of possibility. For example, the capacity of a kettle for a family of four would be excessive for a single backpacker concerned more with weight and space issues.
Capacity will also impact your fuel choice. Although a kettle doesn't have to be full when heated, keep in mind that it takes a lot more heat to bring four quarts of water to a rolling boil than one.
Also consider your personal strength when you evaluate size. If you find heavy weights challenging, try filling a cooking pot at home with an equal amount of water as the kettle you are considering holds and see how well you can handle it while kneeling and standing as if you were placing or removing it from a fire.
2. Heat Source
If you're cooking over an open fire you can simply put another log on the smoldering coals and you're back into maximum output business. However, when you're on a remote backpacking trip into an area where fires aren't allowed the only options are self-contained stoves. Small alcohol or propane stoves run out of fuel relatively quickly. Therefore, match your kettle to your fuel and your desired output of hot water.
Another factor to consider relative to heat source is thickness of the kettle. Camping kettles made of very thin materials don't fare well when used over the intense heat of an open campfire. Excessive heat on thin materials tends to produce metal fatigue and bring about premature failure.
3. Materials
As for materials, don't put too much emphasis on eye appeal. In the world of outdoor activities, performance is more important than ambiance.
An enamel-coated kettle might be aesthetically pleasing, but it tends to weigh more than other options and that beautiful finish chips very easily - and camping is rough on gear. Due to space restrictions, things tend to be packed in with other items that are not always compatible and just the nature of cooking under adverse conditions tends to produce more drops and bangs that might be experienced in a pristine kitchen environment. If you're car camping and have enough space to wrap an enameled kettle carefully; disadvantage negated!
Aluminum is the lightest option, but keep in mind that very thin, lightweight metals dent very easily. Some campers say that adds character to a pot, so you'll have to evaluate that against the other options. Another serious consideration is the possible relationship between aluminum and Alzheimer's.
Titanium is a very popular choice for backpackers due to its excellent strength to weight ratio and extremely durable finish. However, this alloy tends toward the high end of the price spectrum.
4. Design
Design is the final factor to consider when narrowing down the prospective kettles on your list. While the material used is largely a personal and sometimes price-point driven element, it's important to consider how the kettle is made.
Pots can be pressed from one continuous sheet of metal, or made from two or more pieces that are joined together with seams. The seams can be either compressed or welded. Seamless designs are ideal, because anything that has been seamed together can leak when damaged by a ding or two.
Not all kettles come with the hardware for percolating coffee. Campers that drink instant coffee or hot cocoa don't need a percolator. If you're a big coffee drinker this factor should be considered carefully. Water can be boiled in any container and a good set of nested cooking pots might be a better choice than a kettle if you only need hot water, especially if you enjoy - or can tolerate - instant coffee.
Safety Concerns
Keep safety precautions in mind when using your kettle in the great outdoors. When using a kettle on an open fire, placed directly on burning coals, keep in mind that the weight of the pot will cause it to tip as the wood underneath is consumed to ashes. It is best to place a pot on stones or better yet on a grill or grating. Another safe option is to suspend a kettle over the fire with a tripod of metal or makeshift limbs.
When camping with kids, make sure that adventurous youngsters don't try to help themselves to a cup of hot chocolate. Serious burns can result from young hands that are not able to handle the weight of a full pot of boiling water! Come to think of it, being very careful with boiling water is excellent advice for adults as well.