A Quick National Parks Camping Guide: Where Should You Go?
A National Parks Camping Guide
If you're thinking about choosing a vacation spot, reviewing a national parks camping guide is a good place to start. After all, what better place to enjoy an outdoor vacation than in one of the beautiful parks managed by the United States National Parks Service? Facilities vary greatly by park, and campgrounds that accept reservations often book months in advance. Visit www.nps.gov for all of the details and information necessary to plan your trip.
Bryce Canyon National Park
Utah's Bryce Canyon National Park is one of the most beautiful spots on the earth, boasting magnificent spires of red rocks and Bryce amphitheater, often described as a geologic wonder. The park has two campgrounds -- North Campground and Sunset Campground - as well as a group camping area.
Grand Teton National Park
Wyoming's Grand Teton National Park is home to six campgrounds. The Colter Bay and Flagg Ranch offer full hookups and laundry service. Overnight accommodations are also available at Gros Ventre, Jenny Lake, Lizard Creek, and Signal Mountain campgrounds.
Mount Rainier National Park
There are five campgrounds in Mount Rainier National Park. Isput Creek and Mowich Lake are accessible only to walk-in campers and are located in the northwest corner of the park. The Cougar Rock, White River, and Ohanapecosh campgrounds are available to drive-in RV and tent campers. They are not open during the winter months.
Grand Canyon National Park
Developed camping is available at the South Rim of the Grand Canyon in Mather Campground and at the North Rim in Desert View Campground. There are no hookups in either facility and the maximum RV size is 30 feet.
Acadia National Park
Maine's breathtaking Acadia National Park is an excellent spot for a camping trip. The primary campsites, Blackwoods and Seawall Camgprounds, are located on Mount Desert Island. No hookups are available, but comfort stations and running water are provided. Campers traveling with stock animals can stay at the Wildwood Stables Campground. Those who want to enjoy primitive camping can stay at Duck Harbor Campground, which is on Isle au Haut.
Yosemite National Park
Yosemite National Park is home to 13 campgrounds, seven of which allow for advance reservations. Individual and group camping is available in the park, as well as accommodations for campers who are traveling with horses. RV restrictions and available facilities vary by location.
Rocky Mountain National Park
Rocky Mountain National Park is the ideal location to take in the majestic scenery of Colorado's breathtaking mountain peaks. The park is home to five drive-in campgrounds, as well as a group camping facility that can also be accessed by vehicle. Hookups are not provided at any of the park's campgrounds.
Joshua Tree National Park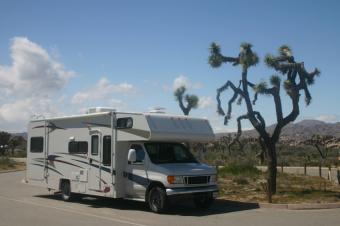 California's Joshua Tree National Park is home to some of the most spectacular desert scenery on earth. There are nine campgrounds in the park, each of which offers different facilities, rates, and availability.
Great Smoky Mountains
The spectacular mountain views in the Great Smoky Mountains National Park draws campers to visit North Carolina time and time again. The park is home to a number of backcountry camping opportunities, ten developed campgrounds, and a number of group campsites. Special facilities are available for campers who are traveling with horses.