KOA Camping Cabins: Where to House Your Next Adventure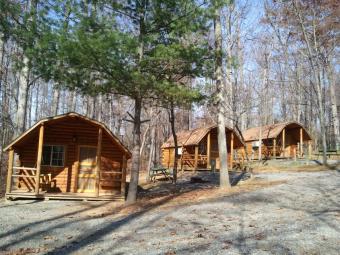 If you're looking to enjoy an outdoor vacation experience without the expense of purchasing or renting a tent or RV equipment, KOA camping cabins might be an excellent option for you.
KOA Campground Facilities
KOA Campgrounds have an excellent reputation as terrific family vacation spots. Each campground is individually owned and operated, but must comply with corporate standards for amenities and cleanliness. When you stay at a KOA, you can be certain that the campground will be kept in great condition and that a variety of amenities appropriate for the geographic location will be provided. Clean bathrooms with hot water showers will be provided, as well as a place to do laundry, a game room, and additional recreational activities.
Example Locations With Cabins
Most KOA campgrounds have cabins available for customers to rent. Locations with cabin availability range from rural settings to those in more urban locations. A few popular options include:
Western U.S.
Arlington, Texas: The Dallas/Arlington KOA is an example of a campground where you can enjoy relaxing in a cabin in a big-city location. It's on a main highway in Arlington, which places it directly between Dallas and Fort Worth.
Colorado Springs, Colorado: The Colorado Springs KOA is located in the small town of Fountain, just south of Colorado Springs. It's a lovely rural setting convenient to all of the attractions and amenities that Colorado Springs has to offer and is just a short drive from Denver and popular ski areas.
Carlsbad, New Mexico: The Carlsbad KOA is a great location for a family vacation getaway that involves exploring Carlsbad Caverns National Park and the surrounding area.
Central U.S.
Chicago, Illinois: Located in the town of Union, IL, the Chicago Northwest KOA is the KOA closest to O'Hare Airport. It's far enough outside of the city to provide a relaxing setting, yet close enough to all the action to provide a great home base for a big city location.
Branson, Missouri: The Branson KOA is less than a mile from "the strip," making it a great home base from which to enjoy cabin-style lodging in this popular family-friendly vacation destination.
Kimball, Michigan: The Port Huron KOA is a lovely home base for any Michigan vacation. The campground is located on Lake Huron and the St. Clair River, yet is just an hour's drive away from the big cities of Flint and Detroit.
KOA Cabins
When you choose this option for your vacation lodging, you can enjoy all the benefits of staying in a KOA without having to pack a tent or travel in a recreational vehicle. Depending on what is available at the campground where you are planning to stay, you can choose a "Kamping Kabin" or "Kamping Lodge."
Kamping Kabins
Kamping Kabins are available in one and two room models. The single room units are large enough to comfortably sleep up to four people. The two room units are large enough for up to six people to comfortably enjoy a rustic vacation adventure. In some locations, KOA cabins are outfitted with air conditioning units and heaters for maximum comfort. Each cabin is outfitted with beds, but you will need to bring your own bed linens or sleeping bags.
They do not have kitchens or plumbing. Instead, outdoor grills and picnic tables are provided and guests have access to the campground's modern shared restroom and shower facilities. Toiletries are not provided, so be sure to bring your own toothpaste, soap, shampoo, and other items you may need during your stay. You will also need to bring your own towels.
Kamping Lodges
Some KOA campgrounds have Kamping Lodges that are more like a true vacation home than the cabin models. There are studio lodges and full lodges. Studio lodge units are a step up from cabins, providing sleeping space for up to four people, a full bathroom, and a refrigerator. Full lodge units are significantly larger, sleep up to six people and include a bathroom and a kitchen, with the bedroom separated from the living area. Lodges are also outfitted with central heat and air conditioning.
If you choose to stay in a lodge, you will still need to bring your own bed linens, towels, and personal care products. In some campgrounds, lodge kitchens include basic cookware, utensils, and dishes, but with others you will need to provide these items for yourself. Be sure to ask if you need to bring kitchen supplies at the time you make your reservation.
Ready to Reserve Your Cabin?
If the idea staying in one of the KOA camping cabins on your next vacation appeals to you, the first thing you'll need to do is find out if there is a campground that offers cabin accommodations in the area where you plan to travel. Visit the Find a KOA page on the KOA website to search for your destination by state or province. Once you find a spot that meets your needs, click the "reserve now" link and select "cabins" from the "show rates/availability" menu. Book your cabin via the website or by calling the campground directly.