What to Expect When Staying at KOA Campgrounds: Know Before You Go
If you're looking for family-oriented campground accommodations, it's hard to find a better option than KOA. With over 475 campgrounds in more than 45 U.S. states and numerous locations in Canada, it's easy to find a location just about anywhere that you might travel. Each campground is unique, yet all follow quality and facility standards established by the franchise. I am a long-time KOA customer and am happy to share my experiences so that you'll have an idea of what to expect when you visit one of these campgrounds.
KOA Camping Experience
My first guest experience with KOA was in a Kamping Kabin in 2001, and I have been a regular visitor since then. Since that first visit, I have purchased an RV and take several trips each year with my husband and dogs. I always look for a KOA when on the road, and even plan overnight stops based on where KOAs are located. This is because I know that I can always expect KOA's to allow pets, have clean bathroom and shower facilities maintained to high standards and have campsites that are fairly easy to navigate.
While many independent campgrounds are wonderful places to stay, that is not always the case. Choosing KOA whenever possible keeps me from worrying about whether or not the facilities will be acceptable.
Consistent Features
While no two KOA campgrounds are identical, they all have the following features:
Pull-through sites for RVs available
Clean bathrooms with hot water and showers
Washers and dryers
General stores with convenience items and camping supplies
Pet-friendly policies
Additional Amenities
In addition to the above features, many locations have fenced dog run areas, large shared kitchen areas (referred to as Kamping Kitchens), wireless Internet access, swimming pools and hot tubs. Some locations, like the one in Bristol, TN, are horse-friendly.
Entertainment options vary, often including mini golf courses, jumping pillows and game rooms, as well as a daily schedule of family friendly activities. For example: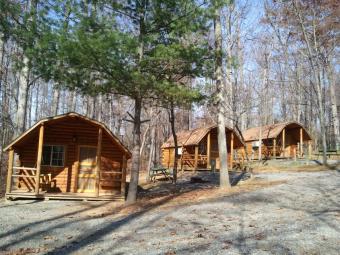 Rental Units
If you want to stay in a campground setting but you don't have a tent or RV, you can take advantage of KOA's rental options. Availability varies among campgrounds, but may include cabins, cottages, lodges, and rental RV units. Some spots have particularly unique accommodations including yurts, teepees, caboose and tree house options. See the Unique Accommodations page on the company's website for details.
Check rental policies closely before booking, as pets are not allowed in most rental units and you may need to bring your own linens.
Finding KOA Campgrounds
You can find KOA campgrounds online or using the printed directory.
Online
Go to Koa.com/find-a-koa and use the map and list of states or provinces to discover locations. Simply click the state or province of your choice to view to the area you are interested in.
You'll see a list of campgrounds in the state, along with dots marking where they are on the map, so you can identify choices in the area you plan to visit. From there, you can learn more about specific properties, view activities and amenities and make reservations. Be sure to check the "hot deals" section so you can learn about special offers and coupon codes.
Directory
Each year, KOA prints a directory that is organized by state and province. I find my directory to be an invaluable resource, especially when I am on long road trips and am trying to find places to stop for the night while en route to my destination. Campgrounds provide printed directories at no charge, so be sure to pick up one of the books the next time you visit a KOA. You can also request to receive on by mail, though a shipping and handling charge will apply.
Enjoy Your Time
If you enjoy spending time in the great outdoors, but prefer a camping experience that is more comfortable than rugged, it's hard to find a better option that KOA. If, like me, you become a loyal camper who plans to return time and time again, consider joining the Value Kard Rewards program. You'll receive a ten percent discount on each stay, as well as accrue points toward discounts and free nights.