If you've ever been in the market for some custom made hiking boots, you'll likely find the following interview with Alex Kovalenko, owner of Esatto Custom Footwear, to be quite interesting. In it he shares why custom boots are worth the money and gives information about his company's background in boot making.
Esatto Custom Footwear
LoveToKnow (LTK): How long have you been in business and where are you located?
Alex Kovalenko (AK): Esatto has been hand making custom boots since 2001. We're located in Battle Ground, Washington, just outside of Portland, Oregon.
LTK: How did you learn to make custom boots?
AK: All of our craftsman have years of experience making custom footwear and, in a tip of the hat to the "old world," learned their skills from their fathers at very young age!
Custom Made Hiking Boots
LTK: Why are custom made hiking boots a good value?
AK: The simple test of the value of custom boots is to look in your closet. If you have multiple pairs of (typically expensive) boots sitting unused in your closet because they don't fit, then custom boots are a good deal.
If you had custom boots to start, your closet would be cleaner, you'd have more money in your bank account and your feet would be happier!
Beyond the value you'll find in how well the boots fit, we use only the best materials and craft an exceptionally high quality boot. Additionally, the boots can be resoled (multiple times if the boots are well cared for), extending their life.
LTK: What are the benefits of custom boots vs. ready-made hiking boots?
AK: The majority of consumers wear shoes or boots that don't fit. Most footwear has been mass produced for the average foot. However, very few feet are average.With information we receive from our Fit Kit, the measurements, tracings and footprints provide us with enough info to make a last that will match your feet. We working on each foot individually, spending hours adding cord and leather little by little creating a model of your feet. Using these models Esatto makes boots the same shape your feet are.
Ordering Custom Boots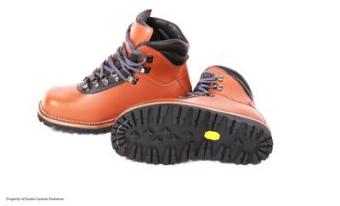 LTK: How can customers order custom boots?
AK: Our fitting system and process are designed to allow you to do the foot measurements and tracings in your own home with an assistant. The process is simple and provides us with all the data we need to shape the "last" (the form on which the boots are made). If, after reviewing the data, we think more information is needed, we will contact you.
LTK: How many styles and colors do you offer?
AK: We offer the Classic Hiker Boot in brown, tan and black as a mid-weight backpacking boot. The Classic Hiker can be made lighter and more flexible or more rigid, depending on the customer's intended use and body type. Recently we have made the "Esatto Vegan Classic Hiker" using all synthetic materials.
Esatto also makes the Rugged Walker Shoe which we can tailor from simple to more fancy styling. You can visit our gallery or our Facebook page for more pictures and information.
LTK: What else would you like to share about custom made hiking boots?
AK: The lead-time for a pair of custom boots is four months, but we also offer an expedite option in case you have a trip planned sooner. Our boots are all made by hand with old world craftsmanship techniques. We will work with our customers until they are happy and have comfortable boots on their feet. If you suffer in your current boots or shoes, please contact us. Let us help you have hiking trips that are more fun and enjoyable!
---
If you spend most of your time in your hiking boots, custom boots may be a wise choice. LoveToKnow would like to thank Alex Kovalenko with Esatto Custom Footwear for taking the time for this interview.