Christian Campfire Songs: Bonding Through Musical Worship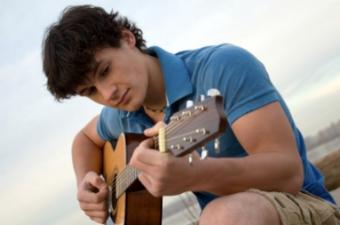 Christian campfire songs (or any type, really), can be a way to bond with friends and family around a campfire. They create fond memories for all of the participants, offering a place of mental solitude in the rat race world. Just hearing a few words from a campfire song can help you relax and have a great time in the great outdoors.
Campfire songs can make friends, make memories, and make a night by the campfire a beautiful place to be.
Buy and Learn Christian Campfire Songs
If you're not already familiar with some of the traditional campfire songs and you're in charge of leading worship on a church camp trip, or you just want to bring a fun religious element into your own family's trip, you may want to buy some music. It's up to you whether you want to bring a cordless CD player or learn the tunes yourself so you can play the guitar and sing them. If you buy the CDs, your children can listen to the music and learn to sing their hearts out even when you're not around with your instruments-or camping out.
Here are a few selections you may want to consider before packing up and taking off unarmed, musically:
Family Christian offers a Campfire Songs CD from the VeggieTales collection. It includes fifteen songs with titles like, "God Is Bigger," "King Jesus Is All," the well-known and traditional "Kumbaya," "This Is My Father's World," and "Friends Are Friends Forever." You'll also hear tracks such as, "On Top of Old Smokey," "Home on the Range," and "Buffalo Gals." This disc retails for $6.98.
If you try the Veggie Tales Christian campfire songs and decide you really like the style, you can find more Veggie Tales music iTunes.
Instruments for Campsite Worship
The most common instrument to accompany singing voices in a camping environment is the guitar. It makes sense-it's easy to toss in the back of your van and light to carry up to your campsite once you park. You don't need an amp or a microphone for intimate settings, either, which is a bonus because you won't need electricity and you won't have extra luggage to cart up to where you'll be staying. Plus, they're pretty popular instruments, so quite a few people know how to play at least the basics.
The Always Popular Kumbaya
What camping trip would be complete without this song? Even if you've never been camping before, you probably realize this is the quintessential camping song. This Christian campfire song was written by Reverend Martin V. Frey in the 1930s, taken to Africa by missionaries, used in the Civil Rights movement of the 1960s, and is still sung today. In the song's worst case scenario, it is used to demonstrate incredible naivety (as in The Blood Diamond when sung by Leonardo Di Caprio's character), but in the best cases, it is representative of all people living in harmony. Not many other campfire songs can claim such fame.
Find Lyrics
Looking for lyrics to your favorite Christian campfire songs? See if My Favorite Camping Store has what you're looking for. You can get the words for songs like "How Great Thou Art," "I Believe" (you can find a beautiful version sung by LeAnn Rimes if you'd like to hear the tune), "Let There Be Peace on Earth," and "Swing Low, Sweet Chariot." Don't forget the song that almost everyone knows, "He's Got the Whole World."