Camping in Wisconsin: 7 Top Campsites for a Spectacular Trip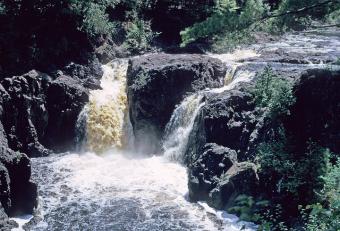 With over 4,600 campsites in Wisconsin's 63 state parks and forests, the hardest part of planning a camping trip just might be deciding where to go. With so many great options, choosing a favorite can be difficult. Here are 12 of the best options for getting out there in the Dairyland State.
Seven Top State-Operated Campgrounds
Wisconsin's State Parks and State Forests offer a wide variety of camping venues, including sites for RV hookups, tent camping, primitive backpacking, wheelchair accessibility, equestrian camping, and even canoe-in sites. Seven of the best options are detailed below. See Wisconsin State Park System Camping Opportunities or call (888) WI-PARKS for reservation details.
1. Copper Falls
WisconsinTrails named Copper Falls State Park in Mellen as Wisconsin's best campground for hiking. The park also received a 2013 Certificate of Excellence from TripAdvisor, where reviewers rate the park highly and describe it as "beautiful" and "awesome".
Two year-round camping areas host 20 shaded forest sites with electric hookups, four walk-in sites, and one backpacking site at Copper Falls. The park offers 17 miles of hiking trails circulating through the park, including the 1.7-mile Doughboys' Trail, with stop-in-your-tracks views of the park's trio of postcard-perfect waterfalls, and an observation tower for faraway views of the Chequamegon National Forest.
2. Rock Island State Park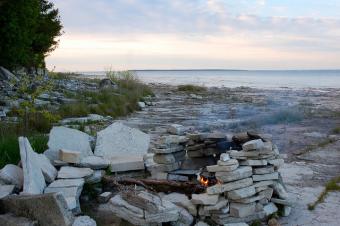 Backpacker magazine describes Rock Island State Park as "the perfect Wisconsin escape". This diminutive island off the tip of the Door County peninsula serves up off-the-grid camping and otherworldly sunsets; it's also a great choice for solitude-seekers.
Two ferry rides are required to get to the year-round park's 40 primitive, walk-in tent sites and nine miles of hiking trails. Don't miss the Thordarson Loop trail circling the island, with a stop at the Pottawatomie Lighthouse.
3. Big Bay State Park
Packed with glowing reviews from TripAdvisor.com and named one of the top campgrounds in Wisconsin by Campgrounds.com, visitors flock to Big Bay State Park for great family weekends or long retreats. The year-round park offers 60 campsites (15 with electric hookups) tucked into the woods on the northeastern shore of Madeline Island, the largest of Lake Superior's Apostle Islands.
The park is only a short walk or bike ride away from one of the state's finest beaches for swimming, driftwood hunting, and stargazing. Seven miles of hiking trails with overlooks and picnic areas follow the shoreline. Save time for wandering the island's eclectic neighborhood and artisan shops.
4. Newport State Park
Wisconsin's only wilderness-designated park, Newport State Park is described by TravelWisconsin.com as one of the best places for lakeside camping. Open year-round, the park offers 16 backpack/hike-in campsites settled spaciously along the shoreline. It has 30 miles of hiking trails where visitors can explore explore pine forest lands, upland meadows, and wetlands, as well as 11 miles of sand-dune populated Lake Michigan shoreline, near Ellison Bay.
5. Devils Lake State Park
Named the state's best family park by WisconsinTrails in the same article that praises Copper Falls, Devils Lake State Park offers a sandy swimming beach framed by 500-foot bluffs, over 400 campsites, shelters, rock climbing, and 29 miles of hiking trails for all abilities, including a stretch of the 1,000-mile Ice Age National Scenic Trail.
The park's Quartzite and Northern Lights campgrounds feature open and grassy sites and have electric hookups, while its Ice Age campground is non-electric in an open/wooded mix. The park is open year-round, with a packed itinerary of activities in all seasons.
6. Brule River State Forest
Backcountry camping doesn't get much better than with the solitude of the Brule River State Forest in Wisconsin's northwest corner, which is why it is ranked in the Yahoo! Sports list of the Top 5 State-Run Campgrounds in Wisconsin.
The heartbeat-quiet campsite on the 9.5-mile Portage Trail section of the North Country Trail, near Solon Springs and the headwaters of the revered Bois Brule River is a perfect spot to get back to nature. More camping is available along the river to the north at the forest's two campgrounds, the Bois Brule and Copper Range. Offering a total of 35 non-electric sites shaded by red and white pines and onsite canoe landings, spots are first-come-first served and fill quickly in summer. A free state forest camping permit is required for pack-in sites. Campsites are open Memorial Day through Labor Day.
7. Kettle Moraine State Forest - Northern Unit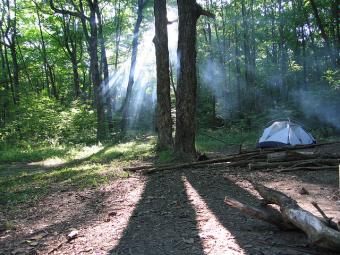 The dense forest and rugged, glacial landscape of the Kettle Moraine State Forest sets the ideal stage for getting out there. Listed in the top 20 of its 100 best campsites in Wisconsin by tripleblaze.com, this heavily wooded area is 45 minutes north of Milwaukee. It offers two campgrounds, Mauthe Lake and Long Lake, with 235 total sites. There are electric and tent-only options, as well as five backpack shelters along the nearby Ice Age Trail. Mauthe Lake is open year-round, while Long Lake is open early May through mid-October.
Five Great Non-State Camping Options
While Wisconsin has many outstanding State Park and State Forest campgrounds, they are not the only options. A few of the best private, federal and local government campsites are detailed below.
1. Smokey Hollow Campground
Voted by Woodall's as one of Wisconsin's best parks for kids, Smokey Hollow Campground in Lodi offers camping options for everything from tents and yurts to coach buses, all with available electric hookups. The campground is open April - October.
The amenities list is packed with kid-focused fun. Small-fry visitors flock to the swimming pond and mini golf course. The park also hosts themed weekends (think treasure hunts and carnivals) and and has an on-site general store that stocks a full inventory of vacation gear.
2. Kickapoo Valley Reserve
Wisconsin's scenic riverways offer a whole new way to camp. In the Kickapoo Valley Reserve near LaFarge, 15 primitive campsites offer visitors the opportunity to paddle to shoreside sites along the Kickapoo River (drive-in sites are also available). Named one of the state's best destinations for river-access camping by TravelWisconsin.com (in the same article that recommends Newport State Park), the year-round reserve is surrounded by towering, wooded bluffs and is laced with a network of trails for hiking, mountain biking, and horseback riding.
3. Oak Island - Apostle Islands National Lakeshore
Ranked as one of the favorites for camping and downright gorgeous scenery by GORP.com, Oak Island's inland valleys and soaring cliffs offer visitors an unforgettable camping experience within the Apostle Islands National Lakeshore archipelago off the tip of the Bayfield peninsula. Five individual and two group sites (primitive with vault toilet and fire ring only) are available around the island, and getting there is part of the adventure. Paddle out to the year-round island on your own or score a ride with a ferry service.
4. Bear Lake Campground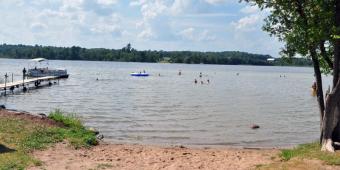 Bestowed with five-star reviews and top honors from Trails.com for best-of Wisconsin camping, Bear Lake Campground, northwest of Milwaukee, boasts 175 campsites scattered beneath 100-year-old red pines for tents and RVs. Water and electric hookups are available, as well as options to camp on the shore of the park's namesake lake in walk-in or blufftop sites.
Fishing, swimming, canoeing, and hiking are some visitor activity favorites. The family-run park, open May through October, has been a state tradition since 1857.
5. Dells of the Eau Claire Park
Often confused with the similarly named and crowd-heavy Wisconsin Dells, this county park on the Eau Claire River just east of Wausau offers a far quieter getaway option. The 26 wooded campsites are a mix of reservable (with electric hookup) and first-come, first-served sites, and are generally on the smaller side. They are sufficient for moderate-sized campers, but not large RVs.
The author of The Best in Tent Camping says "the natural landscape is the star of the show here." Indeed, visitors will enjoy waterfalls, ancient rock formations, and glacial potholes. The park is open May through October, though winter camping is allowed with special permission from the operations superintendent.
Finding Additional Campsites
These are just a few of the many outstanding places to camp in Wisconsin. Visit Trails.com for a thorough list of excellent camping opportunities throughout the state, along with topographic maps and narrative guides. You can also view a list of the 100 best Wisconsin camping destinations, ranked by popularity at tripleblaze.com.