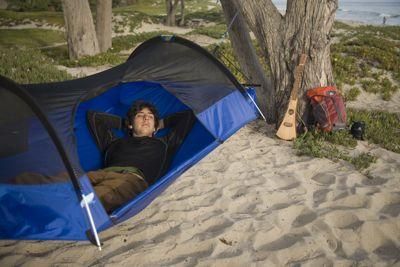 Camping hammocks are just the thing for hikers and campers who need to travel light but still want superior comfort. While they may seem like a luxury for those with extra money to spend, they are actually very practical and have impressive benefits. By the time you finish reading this interview with the designer of Blue Ridge camping hammocks, Wes Johnson, you'll likely agree that this little luxury is really a must-have for your camping gear.
Camping Hammocks: Interview with Wes Johnson
LoveToKnow Camping was able to speak with Wes Johnson, the owner of the Lawson Hammock Company in Raleigh, North Carolina, about his amazing Blue Ridge camping hammocks. These hammocks are made to last and are used all over the world.
More than just your typical hammock, a Blue Ridge Camping Hammock can function as a built-in one-man tent. It can be used as a hammock tent, a ground tent, or a regular hammock for relaxing after a long hike. When you aren't in the woods, you can enjoy it in your own backyard!
These hammocks are available in cobalt blue, forest green and camouflage colors. Designed to go anywhere you can go, they are perfect for hikers, kayakers and those who love spending time in the backwoods where typical campgrounds are unavailable. They are easily the highest quality, most comfortable camping hammock on the market. Learn more in this interview.
What is a camping hammock?
There are various types of camping hammocks, but ours is basically a tent that you can hang between two objects or trees.
I have always had a passion for the outdoors and basically stumbled upon an existing camping hammock product that really caught my attention. I saw potential in the product as well as lots of room for improvement. So, I took the existing product, redesigned it and put in motion the business plan I had created which would allow me to have the camping hammocks manufactured and sold.
Who typically uses this type of hammock?
Anyone who enjoys the outdoors and camping. They are used by hardcore backpackers as well as anyone who just enjoys relaxing and/or sleeping in a unique, comfortable structure that is bug and waterproof and increases camping location options.
Is it intended to be the tent or to be used in addition to a tent?
It really depends. Some people like to have both a hammock and a tent, which is where our hammock fits the bill. Sometimes it's too wet, uneven or rocky..not to mention all of the critters. So having the option to sleep off of the ground definitely has its advantages.
Our unique, patented arch pole and spreader bar system allows the flexibility of being used suspended as a hammock or on the ground as a traditional tent. It also keeps the bed of the hammock taut, greatly increasing the comfort factor and eliminating the "cocoon" effect that other camping hammocks have. It comes with attached bug netting and a rainfly to keep you safe and dry. It is often difficult to find an optimum place to camp on the ground.
Is it difficult to set up?
It's very easy. After you've done it once or twice it only takes a couple of minutes and also breaks down extremely quickly.
Size and Strength
How much weight does it hold?
We list the weight capacity at 250 pounds. It is very strong, however it is up to the user to set it up properly and securely.We currently only have a single person option but are hoping to launch some new models, including a double in the near future.
How much does it weigh?
It weighs approx. 4.25 pounds (including all poles, rainfly, etc) and breaks down to approximately 24 inches x 6 inches x 6 inches. So it is ideal for backpackers. It's about the same or even lighter than a lot of tents. Keep in mind that it also eliminates the need to carry extra gear like ground tarps and sleeping pads.
What kind of maintenance is needed?
That depends on how often you use it and in what type of elements. It is always good to seam seal after lots of use or before a long trip with products you can find at any outdoor/camping store to ensure that everything remains watertight.
Just use common sense, clean with soapy water, lubricate the zipper if using frequently, make sure everything is dry when stored and that the hammock is stored in a conditioned environment just like you would any other type of tent and they can last for many, many years.
Purchasing
Are your camping hammocks affordable?
Yes. The $139.99 price is competitive with or cheaper than most other high-quality single person tents or hammocks.
They can be purchased online at LawsonHammock.com or through various outdoor retailers and organizations including Cabela's and the Boy Scouts of America.
Camping
What conditions are they intended for?
They are suitable for any conditions. However, if camping in cold weather, you'll probably need some sort of insulation for the bed of the hammock because you lose more heat being off of the ground. People often use those silver emergency blankets or other thermal pads in combination with sleeping bags. You can also keep the rainfly on, even in dry weather to help keep the body heat in.
What should people know about hammock camping?
It really does open up all sorts of options because you now have access to areas not suitable for setting up traditional tents. It's also just more fun. You can turn the hammock over during the day to relax or lounge and use as a typical backyard hammock.
If you enjoy the outdoors and camping, I highly recommend trying out a camping hammock. I don't think you'll be disappointed with the experience and extra comfort that they provide. Some people even use them in the back yard just for fun or to keep the bugs at bay which you can't do in other hammocks. Hammock camping is definitely catching on and becoming more popular as more and more people experience the benefits. Give it a try!
---
LoveToKnow would like to thank Wes Johnson for telling us about the fun of camping hammocks. If you would like to learn more, visit his website at LawsonHammock.com where you can view pictures and read testimonials.