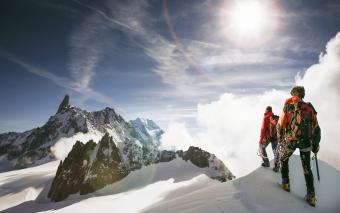 Use a backpacking cold weather gear list to make sure that you have packed the essentials for your hiking or camping trip in the winter. While some of the items may be the same as you're summer supplies, there are a few things you absolutely need for staying warm and having fun in the colder weather.
Printable Backpacking Cold Weather Gear List
Backpacking can be fun even during the coldest months of the year, if you are careful to take along everything you need to make your trip a safe and comfortable experience. Since you can't just run to the store to pick up items that you've left behind when you're on a backpacking excursion, it's essential to plan and pack carefully before you leave home. Click to download LoveToKnow's printable packing list to use as a guide to help you get ready for your next cold weather outdoor adventure. If you need help downloading the printable list, check out these helpful tips.
Tips for Using the List
Once you have the list, it's important to personalize it to your needs. This will help you make sure you remember everything you need for your cold-weather adventure.
Decide if You'll Be Camping
The gear you need depends on the activity you'll be doing. If you'll be winter camping, use the section of the printable list that contains the tent, cold weather sleeping bags, and other items. Write in specific foods you'll need to help keep your energy up too. You'll need a lot of food to stay warm, about 3,600 to 6,000 calories per day, according to the University of Minnesota. If you'll only be hiking for the day, you can skip the camping section entirely.
Consider Layers to Stay Warm in Cold Weather
This packing list contains clothing for layering, which is important for staying warm in cold weather. When you choose items to pack, consider the weight, but also think about the warmth and whether the item will layer well. For example, liner socks should be thin enough to fit under warmer socks, but they should also be capable of wicking moisture away from your skin.
Add Your Own Items to the List
Don't forget that every situation is unique. You may need items for specific activities like photography or bird watching, or you may be winter hiking with your dogs or with your children. Be sure to add your won items to the list to cover your unique situation.
Organized Packing Is the Key
Organized packing is important, no matter what you're doing. Whether you'll be winter camping or going for a cold weather day hike, a packing list will help you make sure you bring everything you'll need to stay warm in cold weather and have a great adventure.