6 Best Air Mattresses for Camping That Guarantee a Good Night's Rest
It's a good idea to include an air mattress on your camping supply list for your next backpacking or tenting adventure. When you take an air mattress along on your next camping trip, you'll be able to sleep comfortably in just about any conditions.
Best Reviewed Inflatable Mattresses
There are plenty of excellent beds to choose amongst when it comes to your nighttime needs while camping.
The Coleman 4-in-1 QuickBed has a favorable review from Camping Essentials. This versatile option can be a tall twin mattress when stacked, two separate mattresses when separated, or zipped together to create a large king size bed. It is an affordable option, at less than $60.
Consumer Search rates the Wenzel Insta-Bed Queen Raised Sure Grip Bottom with Built-in Pump a "best reviewed" option. It inflates quickly, is raised well off the ground, and has a grip on the bottom to keep it from moving as you sleep. It costs less than $140.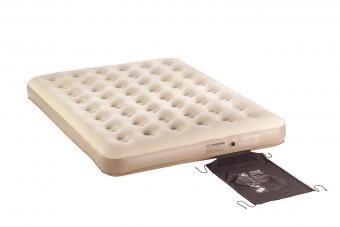 Important Air Mattress Features for Camping
When choosing the best air mattress for your needs, keep these features in mind:
Puncture resistance: There is always a risk of puncture caused by items beneath your tent. Look for an air mattress that has a fairly thick base and a textured bottom to minimize the likelihood of puncture damage from rocks, twigs, or other outdoor hazards.
Water resistance: Waterproof air mattresses are the best best for camping, because they aren't harmed by dew or water that builds up on the ground.
Size: Be sure there is sufficient room in your tent for your fully inflated air mattress. The deflated size of your air mattress is important in terms of storage and transportation.
Ease of setup: Choose an air mattress that is quick and easy to setup. Select a model that comes with a pump that is likely to work in your most frequent camping environment. For example, if you will use your air mattress primarily for backpacking, an electric pump isn't going to be your best choice. A manual pump or battery-operated model will probably be best for you.
Versatility: Look for a model that can do double-duty. Do you have a lot of visitors? An air mattress than can double as guest seating is an excellent idea.
Sleep Well Under the Stars
Camping under the stars is even better when you're comfortable. Before you head out with your new mattress, make sure you inspect it for any defects. Practice setting it up at home, so you know how to do it and will be able to do so quickly and easily when it's time to rest for the evening during a camping trip. Your new air mattress will make your camping experience more enjoyable than ever.